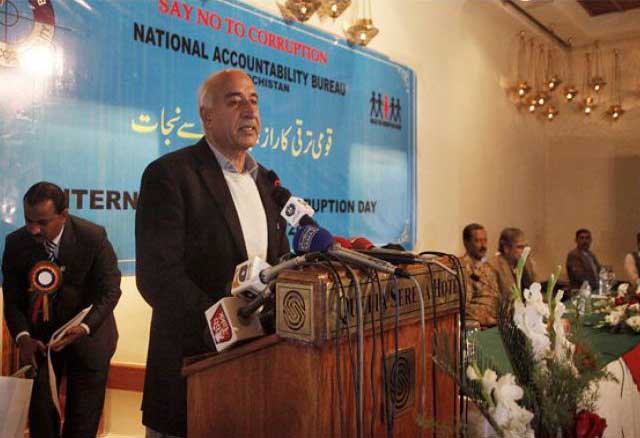 Balochistan Chief Minister Dr Abdul Malik Baloch addressing a ceremony held in connection with international anti-corruption day
Balochistan Chief Minister Dr Abdul Malik Baloch called corruption a bigger problem of Pakistan than terrorism, saying corrupt practices causing militancy and other illicit activities.

"Despite immense accusation, I have been serving as chief minister without a single stain of corruption," he said while addressing a ceremony on World Anti-Corruption Day, which was organised by the National Accountability Bureau (NAB) Balochistan.

He added the bureaucracy and establishment need to work impartially.

Under my leadership, Dr Baloch said, the coalition government has taken bold steps to prevent menace of corruption. "From the beginning of my tenure I have tried to stamp out the culture of bribery from all public institutions and yet we all have to work together against corrupt elements within the society."

Citing the National Testing Service (NTS) system for recruiting government employees, he said: "In the past our qualified youngsters used to pay huge bribes for getting jobs in public organisation but the ruling government has precluded all institutions to recruit new employees though NTS and the Public Service Commission."

Stressing on the impartial justice system, Dr Baloch said, "People have elected us for providing them justice and peace and if we failed to deliver, they can hold us accountable."

Meanwhile, addressing the ceremony Provincial Home Minister Mir Sarfraz Bugti said the menace of corruption can only be wiped out when we build a positive character in ourselves. "Corruption is an administrative issue that won't be eradicated until we adopt strict check and balance mechanism in all public sectors."

Talking about the plight of education in the province, he said, "Today the education sector in our province is almost closer to collapse because of poor political leadership and Government Teachers Association.

DG NAB Balochistan Tariq Mehmood said the accountability authority is taking strict action against corruption mafia and "we have filed numerous cases against politicians and government employees stealing public wealth".