The Office for National Education Standards and Quality Assessment (ONESQA), based in Bangkok, Thailand, has organized an International Conference on Quality Assurance 2015 (ICQA2015) on the theme "Breaking Barriers Towards a Millennium of Quality: Development, Enhancement, and Framework" at the Bangkok International Trade and Exhibition Centre (BITEC), Bang Na, Bangkok, Thailand, on October 14 – 16, 2015.

On the invitation of ONESQA, four member delegation of NTS comprised of CEO NTS, Director CIIT, Lahore Campus, Sr. Manager (ICAD) and Dr. Rehana (Advisor NTS) attended the ICQA2015 conference. However, the CEO NTS signed an MOU for promoting External Assessment and Criteria for Quality Standard Certification in Pakistan. Air Chief Marshal Prajin Juntong, the Deputy Prime Minister of Thailand has witnessed the occasion.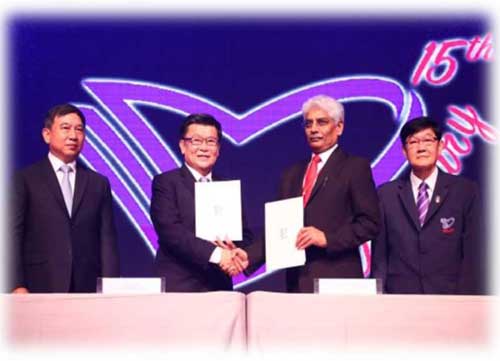 The purpose of the cooperation between NTS – Pakistan, CIIT and ONESQA is developing an external quality assessment that fits to Pakistani context which include:
a) To initiate External Assessment and Criteria for Quality Standard Certification in Pakistan;
b) To Process Accreditation needs; and
c) To develop Standards and Indicators of EQA, Reporting Mechanism of External Assessment Results and its impact, etc.
The conference provided an opportunity for scholastic, policy makers and assessment academic practitioners to establish dialogues and exchanges concerning important issues of quality assurance processes. The participants have shared their best quality assurance practices as well as to engage in analyzing comparative assessment works from around the world.
It may be worth mentioning that NTS and ONESQA are in contact for mutual cooperation in the field of quality assurance in education since 2013.